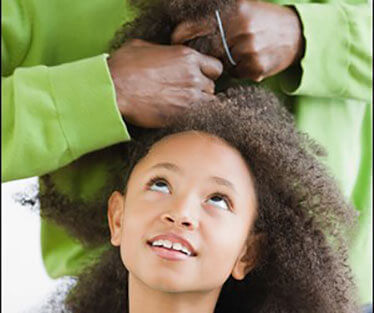 1 Washing, Detangling and Defining loops
Always detangle from bottom to top, and never on dry hair (because this unravels the loops).
Take your time, needless to try to untangle kinky, frizzy or very curly hair
in 10 minutes at 8 am before school !
The best is to untangle on wet hair, well impregnated with conditioner
with a fitted detangler comb disassembler, with a special brush (like the Tangle Teezer).
Make sure there are no nodes left even small ones
which would have passed through the broad teeth of the comb.
Untangling hair 1 evening out of two or one night out of three during the bath or shower
with a conditioner and define the curls in the morning with a lotion.
There is no need to wash your hair more than once a week
if you use natural products (silicone free, with no mineral oils etc…)
Example for a routine :
Sunday

 : hair washing with laureth sulfate-free shampoo, application of conditioner and detangling of hair, rinsing, application lotion or serum to define loops, natural drying.
Monday

: In the morning revive the loops with an organic defining lotion.
Tuesday

 : In the morning revive the loops with an organic defining lotion.
Wednesday

 : Rinsing of the hair in the shower, application of conditioner and detangling of hair, application of lotion, natural drying
Thursday

 : In the morning revive the loops with an organic defining lotion.
Friday

: In the morning revive the loops with an organic defining lotion.
Samedi 

: leave oil or other care product on dry hair

 
t's up to you to see if this routine suits your child's hair.
If hair tangles too much, untangle one night out of two.../h2>
If your child's hair is curly, untangling it one night out of four may be enough.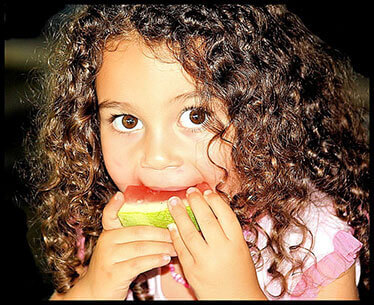 If your children's hair tends to get tangled up, we strongly advise you to apply
a leave-in lotion or cream (so choose it entirely natural see bio)
2 Two types of Drying :
When the hair is still wet, absorb the excess water using
a microfiber towel (softer than a cotton towel it respects the hair, avoids knots and absorbs water more quickly),
then two types of drying are available depending of your hairstyle.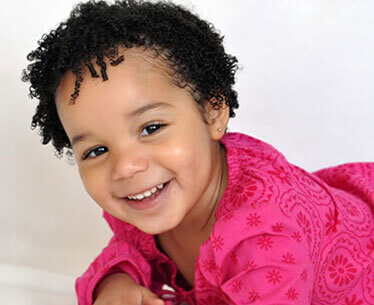 a) f you want to leave the loops free :
Do not comb or put your fingers in the loops to keep them well defined
Apply a fixing gel or lotion if the loops tend to be poorly defined.
Allow to dry in the open air (best option), exceptionally dry with a hair dryer equipped
with a diffuser to prevent overheating the capillary fiber.

b) Si vous voulez faire des vanilles ou des nattes :
Il faut alors brosser légèrement les cheveux , ajouter quelques noix de crème
hydratante (comme CurlyQ Milkshake),faire une grosse natte (ou deux ou quatre
selon la longueur des cheveux) et laisser sécher a l'air libre.
Une fois secs la texture sera idéale pour commencer les vanilles
ou les nattes avec un peu de gel ou lotion fixante
Les petites filles adorent les perles , les clips et les barrettes alors n'hésitez pas a donner un coté « girly » a sa coiffure !!!
3 Les tresses collées et les rajouts 
Les tresses collées et les rajouts sont à espacer au maximum et surtout il ne faut jamais serrer les cheveux naturels de l'enfant au point de lui faire mal !
Si elle pleure quand on la coiffe ce n'est pas pour rien, la traction exercée sur le cheveux et le poids du rajout tire de manière douloureuse sur le cheveu fragile de l'enfant et résultat il casse !!!
Répéter l'opération encore et encore et vous arriverez à ce résultat :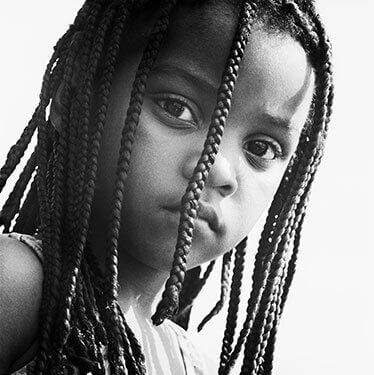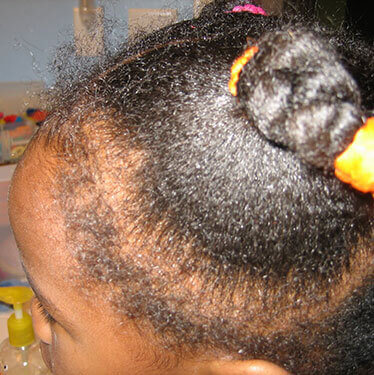 On peux voir que les cheveux les plus fins ne repoussent plus !! Encore quelques années de ce traitement traumatisant et l'alopécie de traction (c'est à dire qu'a force d'être arraché et tiré le cheveu ne repousse plus) s'étendra sur tout le haut du crâne.
N'oubliez pas que l'avenir capillaire de votre fille est entre vos mains !!!
Et si certaines pensent que cette petite fille avait les cheveux fragiles mais que les cheveux de votre enfant sont eux très résistant détrompez-vous !!!!
Les cheveux crépus sont très fragiles a fortiori ceux des enfants alors traitez les avec douceur et respect !!!
4 Les jouets, processus d'identification
Vous vous demandez ce qu'une section jouet peut bien venir faire ici ?
     
C'est très simple, si votre enfant a les cheveux crépus ou très frisés et qu'elle ne joue qu'avec des poupées aux cheveux ultra lisse, elle s'identifie à sa poupée et finit par vouloir elle aussi des cheveux ultra lisses.
Le poids de l'image dans notre société qui met en avant les cheveux très lisses est déjà assez fort, sans en plus lui rajouter une poupée qui n'a rien a voir avec elle.
C'est beaucoup plus dur de trouver des poupées aux cheveux crépus ou très frisés mais avec un peu de volonté vous allez trouver !!!
Introduisez la nouvelle poupée, coiffez-la ensemble, et n'hésitez pas à trouver un vocabulaire valorisant pour cette poupée si votre enfant vous demande laquelle de ses poupées vous préférez :
Vous préférez la poupée crépue ou frisée car on peu faire plus de choses avec ses cheveux… À vous de valoriser la poupée et donc votre enfant.
Here are the recommended products: